See how Buffy's trying but doesn't quite look convinced?
That was me reading these books.
Today I thought I would show you my worst DNFs*. These are either books that I didn't finish and never plan on picking up again or books I just might end up finishing one day. The funny thing is that many of those books are actually quite popular and have hordes of fans. So if you see a favorite book of yours here, don't feel in anyway that I'm trying to bash your beloved book. We all have such diverging tastes so what may work for me might not work for someone else and that's totally fine :)
(*DNF - A book you Did Not Finish)
1. The Fellowship of the Ring by J.R.R. Tolkien
This is the first book in the Lords of the Rings trilogy and while I did read and enjoy the Hobbit (twice!), I just couldn't finish this one. Like I said in a previous post, the fact that the characters are constantly singing is what turned me off with this one. However, this is one of those 'might finish it one day' situations. I really want this to happen. I just don't really feel like picking this up again anytime soon. We'll see how it goes!
2. Inheritance by Christopher Paolini
OMG this series... I thought the first book was quite good. It was fast-paced and had lots of adventure and magic. And of course, there was an awesome dragon too. Then beginning with book two, it kind of totally went downhill. Aside from the not so subtle Star Wars and Lord of the Rings similarities, the books were unnecessarily long with passages that could have easily been cut down and events that could have been skipped altogether. I mean, book three has whole chapters dedicated only to dwarf politics!!! I really struggled to finish books 2 and 3, mostly because I had actually spent a good portion of my savings on them. But when I got to book 4, I just couldn't do it anymore. I stopped 100 pages into it and honestly, I don't thing I'll ever pick up the book again.
3. Emma by Jane Austen
This might come off as a shocker to fans of Jane Austen but it's true, I couldn't finish this book. First off, I never really liked romance and comedy as book genres and those are the genres that primarily fit Jane Austen's books. Now just because a book is a classic doesn't mean you necessarily have to like it, especially if it's from a genre you don't enjoy.
I've tried several Jane Austen novels now, including Mansfield Park, Emma and Pride and Prejudice, and I still don't enjoy her works the way I enjoy the works of other classics authors. I guess I just prefer books that have a more serious or dramatic tone. That's probably why I love Jane Eyre so much. Again, it really boils down to personal preferences. I do plan on re-reading Pride and Prejudice one day to see if my opinion has changed. And despite having abandoned Emma about midway through it, I also plan to read it again one day and actually finish it. Jane Austen is just not on top of my priority reads for the moment with regards to classics.
4. The Iron Trial by Cassandra Clare
As a great fan of The Mortal Instruments and the Infernal Devices series, when I saw that Cassandra Clare had released a new book, I immediately got my own copy and started reading it right away. That book was The Iron Trial, which she had written with Holly Black and... I hated it. It's a middle-grade book but I don't think that's why I didn't like it. I mean, I love the Percy Jackson books and these are also mid-grade books. The Iron Trial was super cheesy, even for a book intended for kids. And despite trying very hard not to, I couldn't help but note the similarities with Harry Potter. I really tried to give this book a chance but in the end I just gave up. I'm really looking forward to Lady Midnight, Cassandra Clare's next release, but I don't think I'll ever pick up a middle-grade book by her again.
5. Unravel me by Tahereh Mafi
I read Shatter Me, the first book in the series, mostly due to the hype it was getting in the book community. Despite it having a rather weak plot and lots and lots of cheesiness, I did quite enjoy Shatter Me, mostly because I saw it as a guilty pleasure read. With Unravel Me though, the guilty pleasure element kind of wore off and I was left struggling with yet another cheesy and weak plot. I really hated how hard the author was suddenly trying to make us sympathize with Warner when in book one he had been such an asshole. And to make us like him, the author found no other way than to turn book one's love interest, Adam, from a sweet and loving guy to a jealous guy with anger issues. These character developments were so random and sloppy and that pretty much killed the series for me. I know this series has lots of fans, but it just wasn't for me I guess.
6. The Fault in Our Stars by John Green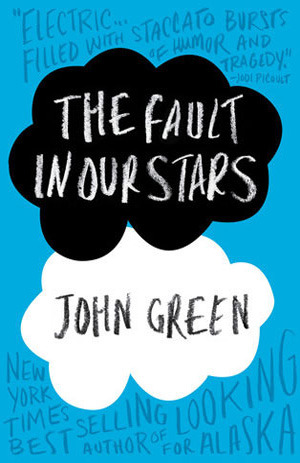 Okay, please don't hate me for this one guys! Look, I do enjoy John Green's writing. I mean I read Looking for Alaska and Will Grayson, Will Grayson by him and I genuinely love both of these books. However, I truly feel that Looking for Alaska was a superior story than the Fault In Our Stars. I think my main problem with The Fault is that is had been overhyped for me. So, when it didn't end up living up to the high expectations I had developed, it just came off as disappointing and I had to put it down. So I guess overhype is what truly ruined this book for me. I'm not saying it's a bad book. In fact, I agree with most people in that it has a beautiful story but I honestly think this book was overhyped. If someone would ask me for a John Green recommendation, I would totally recommend something else than The Fault in Our Stars.
Okay so let the debates in the comments begin! Did I mention a book that you loved in this post? Or maybe you read one of these books and you, too, didn't like it? Comment down below and tell me what you liked or didn't like about the books I mentioned. Looking forward to your comments!
Follow me here: