Today I have a book tag for you! If you're not familiar with those, book tags are theme-based questions about books and bookish stuff. So today I'm doing the Coffee Book Tag, created by BookTuber BangadyBangz (best name ever?). You can check out his YouTube channel and the original Coffee Book Tag video here:
Now, you probably already know that I'm more of a tea person but this tag looked so fun that I just couldn't resist. So without much delay, let's get started!
1. Black coffee - Name a series that's tough to get into but has hardcore fans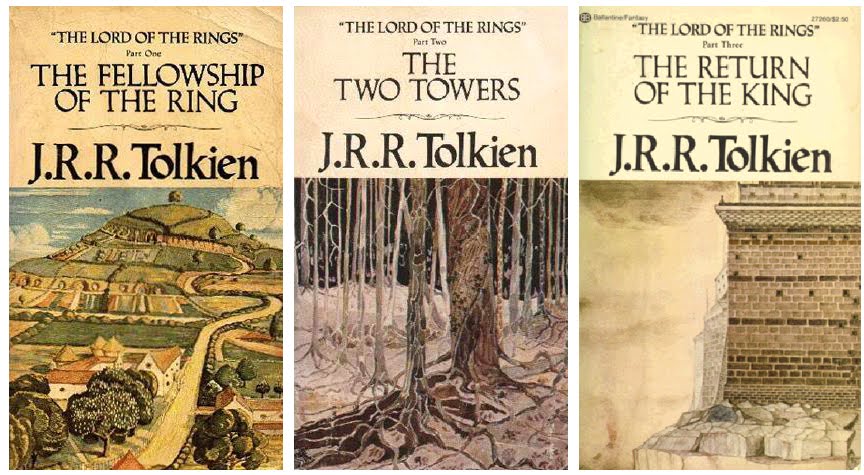 The Lord of the Rings by J.R.R. Tolkien (Oh, shame). I actually own the first book but I never got to finishing it. Why? Because the characters sing ALL THE TIME. I'm not kidding. They just keep singing as they go about their journey. Not only is it distracting as hell, but it also takes the seriousness out of the story. Well, at least it does for me. I do intend to finish this series one day but for now, I think I'll stick to the movies.
2. Peppermint Mocha - Name a book that gets more popular during the winter or a festive time of the year
Harry Potter is for me the ultimate Christmas book. Not only do those books have gorgeous Christmas and winter scenes, but I also happen to have discovered Harry Potter on a Christmas morning, many years ago. I remember being eleven, the same age as Harry in the first book, when I first held this book in my hands. I was so fascinated by it, that I started reading the book right away, still wearing my PJs with
torn gift paper scattered
around me
, the other gifts pretty much forgotten. Best Christmas ever.
3. Hot chocolate - What is your favorite children's book?
The Magic Faraway Tree by Enid Blyton. I remember taking this out of my school library whenever I had the chance, never tiring of re-discovering this story. It's about some kids who befriend the magical creatures that live in a huge tree, with whom they go on adventures in the various lands that appear at the top of the tree. Each time they visited, they would discover a new land above the tree, each with its own share of amazement and adventures. Another thing that I loved with this book? The food! Enid Blyton did such a good job describing food that reading about all these honey pop cakes, cherries, plums and toffee would often actually make me hungry. Damn, I miss that book.
4. Double shot of espresso - Name a book that kept you on the edge on your seat from start to finish
Burial Rites by Hannah Kent. This book is about Agnes, a woman who is accused of murder and sent to live in at an isolated farm while awaiting her execution. At the beginning of the book, the family under whose charge she is put is horrified by this situation. With time though, they start to realize that there might be another side to the story they were told. Reading this book was a roller-coaster of emotions. On one hand, you want to know more about Agnes but at the same time, you are almost scared of reaching the final page as the ending could easily go either way. Will she make it? Will she be executed? These are the questions I kept asking myself throughout this book and it's really in the last page that the answer is finally revealed. Kept me on the edge of my seat for sure!
5. Starbucks - Name a book that you see everywhere
Here, in Mauritius, one book that I keep seeing in bookstores is Revival by Stephen King. I know this book was published last November but here, it's still being displayed in the best-selling section of bookstores. I don't know much about this book other than it's supposedly one of the best, and arguably the darkest, horror stories of Mr. King. I've been super tempted to get my own copy of this book but given my recent book hauls, I'm trying very hard to keep my book buying in check. I might get my copy of Revival this Halloween though. We'll see.
6. That hipster coffee shop - Give a book by an indie author a shout-out
Wake (Watersong #1) by self-published author Amanda Hocking. Okay, this is something that I read eons ago, back in my teen days, and while I never even completed this series, I did remember enjoying this book. My mom had brought back this book for me from a trip abroad, which is why it has an extra special place in my heart. I do remember it being about mermaids, although it's been too long since I read this book to remember much else about it. The author has since then written several other books including the quite well-known Trylle trilogy. If you like fantasy YA, do check her books out.
7. Oops! I accidentally got decaf - Name a book you were expecting more from
The Blood of Olympus, by Rick Riordan, is the last book in the Heroes of Olympus series. While I did enjoy it, I felt like the ending could have been executed better. As compared to the progressive build up of the series, the conclusion kind of fell flat. I had the feeling that things were concluded too quickly and too easily. Also, I personally think that Gaia failed to deliver as the supreme villainess she was supposed to be. If you've read this book, do share your thoughts in the comments! I'm very curious to see what other people have thought of it in general.
8. The perfect blend - Name a book or series that was both bitter and sweet but ultimately satisfying
Okay for this one, I'm going to cheat and name two books. The first is Clockwork Princess, the conclusion to the Infernal Devices trilogy and the second is City of Heavenly Fire, the last book in the Mortal Instruments series, both by Cassandra Clare. Both books were emotionally-loaded, action-packed and highly satisfying conclusions to their respective series. Awesome story, great characters... Very much the perfect blend indeed.
So that's it guys for this tag. If you've enjoyed it, do check out the original video linked above, as well as Bangadybangz's channel. If ever you do this tag on your blog, link your post in the comments below. I'd love to see the books you'd pick for this tag!
Follow me on:
Bloglovin'
Facebook
Pinterest
Google +