It's finally Christmas Eve people! Today, I thought I would do the Christmas Book Tag. This lovely tag was created by YouTuber Samantha from the channel Novels and Nonsense and you can watch her original video here.
Anticipation: The Christmas excitement is real, what book release(s) are you most anticipating?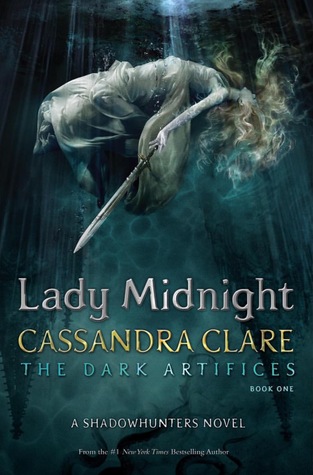 Lady Midnight by Cassandra Clare. This will be the first book in the a new Shadowhunter series called Dark Artifices and is coming out early March 2016. I love the Mortal Instruments and Infernal Devices series, also by Clare, and I can't wait to dive back in the Shadowhunter world.
Christmas Songs & Carols: What book or author can you not help but sing it's praises?
I'm going with Gregory Maguire. He writes mainly adult fairytale retellings and his prose is both descriptive and lyrical, making his stories poetic despite their often dark themes. I read two of his books including Wicked, the book which inspired the musical, and Confessions of an Ugly Stepsister, which is a Cinderella retelling from the POV of one of her 'ugly' stepsisters. I would absolutely recommend this author and these two books to everyone. I'm hoping to read more of his books in the coming year.
Gingerbread Houses: What book or series has wonderful world building?
The Lunar Chronicles, by Marissa Meyer, has one of the most unique and best described fictional universe I've come across. It is set in an distant future in a world where androids, advanced technologies and cities on the moon are absolutely normal. Meyer does a great job bringing this universe to life with her vivid descriptions and beautiful prose. As someone who normally don't enjoy sci-fi, I found myself falling in love with this love within the first few chapters of the first book and it's now a fictional universe I'll be revisiting from time to time.
A Christmas Carol: Favorite classic or one that you want to read
My favorite classic is Jane Eyre by Charlotte Brontë. I haven't read it in years but I recently bought a new edition of the book and hope to read it very soon.
Christmas Sweets: What book would you love to receive for Christmas?
Crown of Midnight by Sarah J. Maas. I recently bought Throne of Glass and am planning to buy the other books in the series before I finally start it. The plan is to marathon the whole thing before the next book comes out. I honestly don't know what took me so long to get into this series, lol.
Candles in the Window: What book gives you that warm fuzzy feeling ?
The illustrated edition of Harry Potter and the Philosopher's Stone definitely gives me those warm fuzzy feelings. Not only is Harry Potter my book of choice for Christmas, but the illustrated version also brings everything I love about this book to life through an even more magical experience. I'm glad I kept this book for Christmas and I have a feeling I might be taking it out of my bookshelf next Christmas too.
Christmas Trees & Decorations: What are some of your favorite book covers?
I really love the cover of the illustrated edition of Harry Potter. It really conveys the magic concealed between the pages of the book. Another cover I really love is that of the Puffin Chalk edition of Peter Pan by J.M. Barrie. All the books in this edition are equally stunning but my favorite is definitely this one.
Christmas Joy: What are some of your favorite things about Christmas and/or some of your favorite Christmas memories?
I have two favorite Christmas memories. The first one was when I was eleven. That Christmas morning, I opened my presents to discover my first Harry Potter book. Even now, as I remember that day, I can still feel how magical it was to open the book for the first time. That Christmas morning was magical and because of it, I'll always associate Harry Potter with Christmas.
My second favorite memory was of my trip to Hong Kong last year to spend Christmas there with my family. On the night before Christmas, we went to watch The Nutcracker performed by the Hong Kong Ballet. It was my first time watching ballet performed in an actual theater and by a professional dance company. We just don't have these things here in Mauritius. I loved every moment of it. The ballet itself was amazing, of course. But what made that evening so special was also the beauty of the actual theater and the mere fact that I was there. I kept glancing at the ceiling and the people sitting around me, almost giddy at the realization that this was actually happening. I suppose there are much grander theaters elsewhere but for me, that night, that was truly the most beautiful of places.
If you enjoyed this tag, consider yourself tagged and...






Cover art by Of Stacks and Cups via Pagemodo