Sometimes, when we're a bit gloomy, we just don't feel like reading. Yes, that's actually something that happens even to us, book lovers. Instead, we might prefer to put on a nice movie and not think of anything for at least a couple of hours. Here are a few recommendations for you of movies which are sure to make you feel a little better. So grab a big bowl of junk food, get comfortable on your couch and press play. The movie is about to start.
Which one would you have picked?
1. Love Actually - Directed by Richard Curtis
This is for me the ultimate cheer-up movie. It's about love and it's not even cheesy. Set during the Christmas season, t

he movie visits the different aspects of love through ten different storylines. As the countdown for Christmas begins, these stories began to intertwine. With a very good plot and an ensemble cast of formidable actors, this is one of the best romance/holiday movies ever made. You can check out the trailer below:
Cast: Alan Rickman, Emma Thompson, Hugh Grant, Keira Knightley, Liam Neeson, Bill Nighy, Andrew Lincoln and Colin Firth among others.
2. Up - Directed by Pete Docter
When Carl Fredricksen and his lifelong love, Ellie, were still children, they made a promise to one day visit Paradise Falls together. Later, after they got married, Carl began to save money for their trip. Years later, 78-year-old Carl finally has enough money for their trip. Ellie however falls ill and dies, leaving her wish to see Paradise Falls unfulfilled. Refusing to break his promise to her though, Carl ties thousands of balloons to his home and sets out to see the wilds of South America. At the last minute, Carl discovers there is a stowaway on board his makeshift airship.
On a quest of his own to earn his final merit badge,
Russell, a young Wilderness Explorer, has decided to follow Carl on his adventure. This endearing movie with leave you with all the feels. With its occasional funny bits, great characters and awesome animation and music, Up is bound to bring a smile or two to your lips. Watch the trailer here:
Cast: With the voices of Edward Asner and Jordan Nagai respectively as Carl and Russell
3. It's kind of a funny story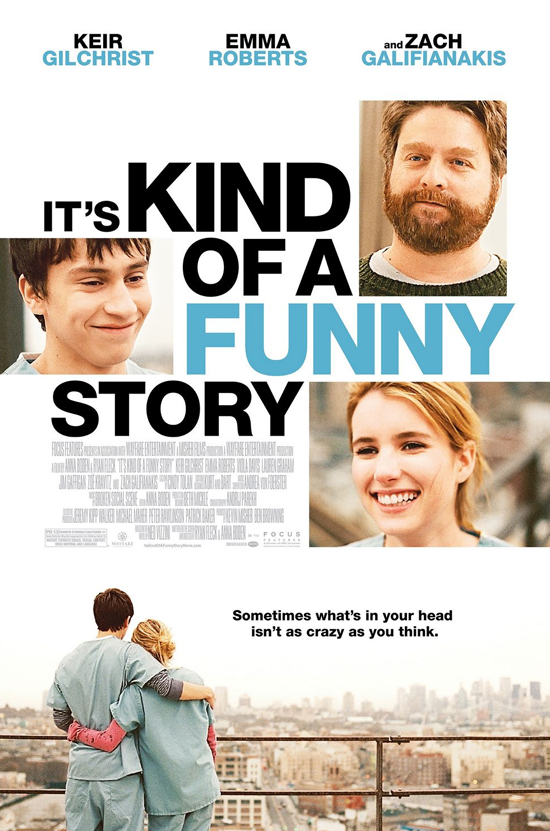 After contemplating suicide, 16-year-old Craig checks himself into a mental health clinic. The youth wing being closed, he's sent to the regular adult floor. There he soon meets fellow patient Bobby, whom he quickly befriends. Later, he meets Noelle, another teen patient, and thinks getting closer to her might be the best way to get over the unrequited high school crush that he's been trying to forget. The movie deals with issues such as depression and mental health while keeping the tone light and fun. This interesting take on an otherwise serious topic makes this movie an unexpectedly fun one to watch. Here's the trailer:
Cast: Keir Gilchrist, Zach Galifianakis, Emma Roberts and Viola Davis
4. Silver Linings Playbook
Patrick "Pat" Solatano, Jr., a man with bipolar disorder
, goes back to living with his parents after being released from a

psychiatric hospital
. Now that he is out of the hospital, Pat is determined to win back his estranged wife. Soon he meets Tiffany, a recently widowed young woman. Tiffany offers to help him win back his wife but only if he accepts to enter a dance competition with her. Pat accepts and they begin to train. Soon, not only are they growing closer, but Pat also starts to cope with his problems and explore his relationships with the people around him. With its humor, awesome plot, great acting and a good measure of dancing, this movie will make you laugh and forget your troubles. Plus it has Jennifer Lawrence in it! Take a look at the trailer:
Cast: Bradley Cooper and Jennifer Lawrence as main characters Pat and Tiffany
5. The Perks of Being a Wallflower
Adapted from the book by the same name, which I mentioned in my book recommendations for this topic, this is one of my favorite movies ever. I've watched this like 5 times already. I'm not even kidding. The story is about Charlie, a shy and socially awkward boy who slowly begins to learn about life, love, sex and relationships as he meets new people and tries new things. Charlie stands out as a character for being a very sensitive and intelligent guy. The movie is beautifully done and the acting is superb. Not only does Emma Watson star in it, but Logan Lerman (Charlie) and Ezra Miller (Patrick) are also awesome in their respective roles. You can check out my previous post to know more about the story. Here's the trailer:
Cast: Logan Lerman, Emma Watson, Ezra Miller
Whether it's a classic like The Little Mermaid, Cinderella or even Sleeping Beauty, or a recent one like Frozen, Disney movies always have the power to cheer you up. Romance, magic, singing and the occasional sassy princess (looking at you Meg)... what else do you need, really?
Do you have any particular movie you like to watch when you have the blues? Comment down below and let me know!