With a new year comes new resolutions which you may or may not keep, new blog posts waiting to be written and read and, above all, lots and lots of new exciting book releases!
Today I'm sharing some of those new releases I'm most excited about. If there's a book you've been anticipating but I haven't included in my list, let me know so that I might check it out. I've tried listing the books according to their release dates although for some it hasn't been finalized yet.
A Gathering of Shadows by V.E. Schwab
This is the sequel to A Darker Shade of Magic, which I haven't actually read yet but which I'm hoping to soon. I read Vicious by the same author last year and loved it and I can't wait to read more of her books.
Stars Above by Marissa Meyer
Released on: February 2nd
This is an anthology collecting the different companion short stories Marissa Meyer wrote for her series The Lunar Chronicles and it will come with a bunch of newly written stories as well. While I'm still a bit sad that the series is now over, this collection comes as a little bonus trip back to the universe of Cinder, Scarlet, Cress and Winter.
Lady Midnight by Cassandra Clare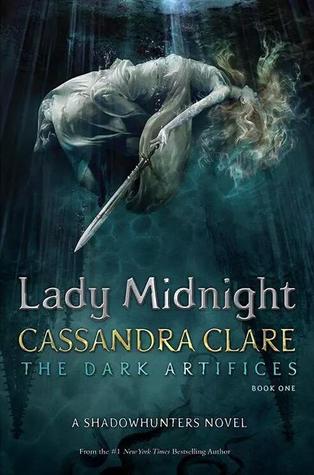 This will be the first book in a new Shadowhunter series, set in the same world as The Mortal Instruments and taking place a few years after the events of TMI's last book. TMI and the Infernal Devices, the first two Shadowhunter series by Clare, are among my favorite YA fantasy series and I can't wait to read more books set in this universe. Also, I hope some old fan favorites will be making cameos in Lady Midnight!
The Hidden Oracle (The Trials of Apollo #1) by Rick Riordan
After angering Zeus, the God Apollo is banished from Olympus and sent down to Earth as a mere mortal. With the looming threat of countless mortal and immortal enemies who want nothing more than to get back at him now that he's mortal, Apollo decides to seek help at the one place where he might still find some: good old Camp Half-Blood.
This marks the start of a new series set in the Percy Jackson universe. As excited as I am by the promise of some more of Greek demigods and Camp Half-Blood, I'm also a little apprehensive as to how the book will be executed. Apollo will be going to
Camp Half-Blood as a mortal teenager. Sure, sounds just like your regular Rick Riordan
quest adventure. Except for the tiny fact that this newly mortal teenager is actually the father to a whole bunch of kids at Camp Half-Blood! I will be reading the book because I'd read anything by Rick Riordan, but I'm just a little anxious as to how it'll play out.
The Hammer of Thor (Magnus Chase #2) by Rick Riordan
Here's one Rick Riordan book I'm totally hyped for. Last year I read the first Magnus Chase book and really enjoyed it. The last pages of the book left us on quite a cliffhanger and I can't
wait to see how this sequel unfolds from that point. This series follows the adventures of a Norse demigod and much like previous Riordan series, it's full of gods, monsters and myths come to life drenched in a fair share of humor and sarcasm.
Heartless by Marissa Meyer
Released on: November 8th
Along with Rick Riordan and Cassandra Clare, Marissa Meyer is one of my favorite YA authors. I absolutely loved her Lunar Chronicles series and now that she has a new book coming out, I have more of her cool universes and beautiful prose to look forward to. Heartless will be a retelling of Alice in Wonderland focusing on the Queen of Hearts. I'm not sure yet about the details but so far, the premise looks very promising.
So those were some of my most anticipated book releases of the year, although I'm sure I'll be adding more titles to my TBR as the year unfolds. Which of these books are you most excited for? Let me know in the comments!
Cover art by Of Stacks and Cups via
Pagemodo